#1 - Sweet Tina gave me this one.
It re-corks an open wine bottle, or demijohn in this case...
It keeps my collection of vintage bar ware company. I found a short video from HGTV with pretty simple instructions HERE.
Here are six more clever ways to use vintage door knobs found via Pinterest:
#2 - This adorable adaptation is from Angie at Knick of Time's Etsy shop. Sorry, it is long gone, but she may have more!
It could hold photos, recipe cards, or keepsake ephemera.
#3 - Check out this pretty yet functional use from Urban Outfitters! This one may not be vintage...but it's a jumping off point.
I wonder if they make hardware for retro-fitting vintage knobs...
#4 - A vintage door knob turnes an old egg basket into an instant cloche - from Margo at robojunker.com!
Note to self: find a nice rusty egg basket to go with your old door knob.
#5 - The next one takes the traditional doorknob function and turns it on its side. Literally.
It was once listed at Room 363, but is not there anymore. Still, you could recreate this...or I could...SOMEONE should!
#6 - I was gonna say this one was for the birds, but that was way too corny...way, way, way...sorry. :) This one is from
Reclaimed Trends on Etsy. Sorry again...long gone, but they do custom orders if you're interested.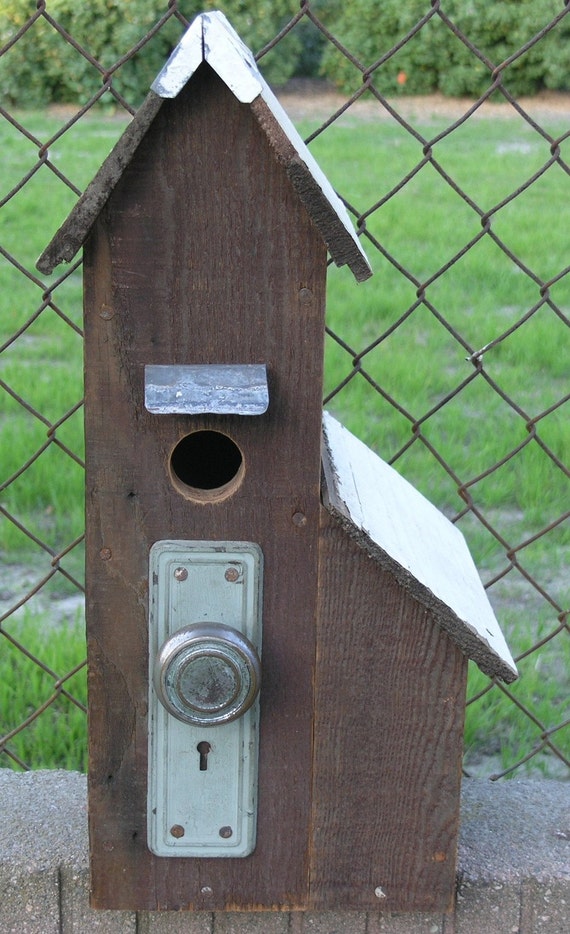 And last but not least - this one is SO charming!
# 7 is from Shannon AKA Junkflirt- A Southern Belle with Northern Roots.
Do you want to make one, too? Great! She has a tutorial! This one is going on my "to-do" list. I think I might be able to keep flowers like this alive! :)
Word for the Day:
"Strive to enter through the narrow door. For many, I tell you, will seek to enter and will not be able.
| | |
| --- | --- |
| | |
| | |
| | Sunday Show-off Link Party |
| | |
| | |
| | |
| | |
| | |
| | |
| | |
| | |
| | Vintage Inspiration Tuesday |
| | |
| | |
| | |
| | Inspiration Exchange Linky Party |
| | |
| | |
| | Blissfully White Wednesday |
| | |
| | |
| | |
| | |
| | |
| | |
| | |
| | |
| | |
| | |
| | |
| | |
| | |
| | |
| | |
| | |
| | Vintage Inspiration Friday |
| | Fabulously Creative Friday |
| | |
| | |
| | |
| | |