If you have a neutral room, or home, you probably love adding textural elements to the mix.
I certainly do! One of my favorite pieces to use has been a set of deer antlers a friend gave me years ago. Mine are somewhat unusual, as they have the hide and hair wrapped around a wooden form. In the photo above, you can see how I placed them inside an antique picture frame. I usually prefer them in a mostly symmetrical arrangement in a gallery wall, after all, they are symmetrical!
While antlers have been a popular trend the past few years, they have long been a classic element in traditional homes.
Here are seven antler decor ideas that caught my eye recently:
#1
Antlers above a window
These are in a very traditional kitchen.
#2
Antlers above a door.
In this case it happens to be a pantry door.
Notice, these have been given a creative paint treatment.
#3
Antlers in a bell jar.
#4
Antlers on top of an Armoire or Cabinet.
#5
Antlers in a table scape.
Don't you love the contrast of the sparkly mercury glass?
#6
Antlers as Table Base.
These are ANTLERS, and they're still available on Etsy.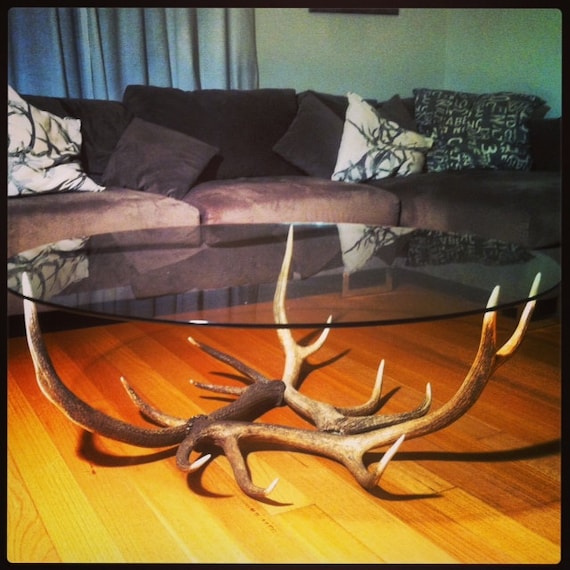 via benjaminbydesign on Etsy.
#7
Antlers as Christmas Decor!
Unfortunately, this Pottery Barn version is no longer available.
I might have to try a similar version, using some of my collected antlers!
If you're looking for antlers, check my Etsy shop next week.
Word for the Day:
Psalm 42:1
As the deer pants for the water brooks, so my soul pants after you, God.
Word for the Day:
Psalm 103:1
Bless the Lord, O my soul, and all that is within me, bless his holy name!
| | |
| --- | --- |
| | |
| | |
| | |
| | |
| | |
| | |
| | |
| | |
| | |
| | |
| | |
| | |
| | |
| | |
| | |
| | |
| | Vintage Inspiration Party |
| | Vintage Inspiration Party |
| | Vintage Inspiration Party |
| | |
| | Outside the Box Link Party |
| | |
| | |
| | |
| | |
| | |
| | |
| | |
| | |
| | |
| | |
| | |
| | |